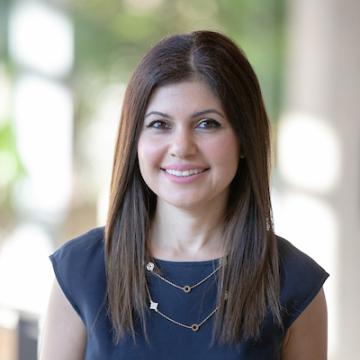 Azita Alipour, PharmD
COP
Associate Professor, Pharmacy Practice
Education
BS in Psychology, University of California, San Diego
PharmD, University of the Pacific
Biography
Azita Alipour, PharmD, BCPP, BCGP is an Assistant Professor in the Department of Pharmacy Practice at Marshall B. Ketchum University College of Pharmacy. Dr. Alipour is a board-certified psychiatric and geriatric pharmacist. Her academic and professional degrees consist of a BS in Psychology and Doctor of Pharmacy. Dr. Alipour completed a post-graduate year one (PGY1) pharmacy residency at the Boise VA Medical Center and a post-graduate year two (PGY2) pharmacy residency in psychiatric pharmacy at University of Maryland School of Pharmacy.
Dr. Alipour's commitment to excellence in patient care is exemplified throughout her nearly decade of clinical pharmacy experience. She started the first pharmacist run psychiatric clinic at the Boise VA. As the Psychiatric Clinical Pharmacist for Kaiser of the Mid-Atlantic States, she received a service excellence award, three customer service awards and a pharmacy MVP award. Prior to joining MBKU, Dr. Alipour was Psychiatric Pharmacy faculty at the Ernest Mario School of Pharmacy at Rutgers, the State University of New Jersey.
Dr. Alipour has served in various leadership positions at the national level. She served on the mental health workgroup for Pharmacy Quality Alliance (PQA). For the College of Psychiatric and Neurologic Pharmacists (CPNP) she was a co-leader for the Geriatric Psychopharmacotherapy Community and Chair of the Hub and Perspectives Newsletter Subcommittee. Currently she is Vice Chair of the Student Committee and Co-leader of the Substance Use Disorder Strategies (SUDS) Community for CPNP.