Hello and welcome to MBKU!
I know it must be a bit chaotic right now with moving and beginning your graduate study journey, but hang in there, it'll settle down soon. And when you ARE settled down in your apartment and get that first taste of homesickness, what better way to destress than to make a home cooked meal!
Since moving from Northern California to here in sunny SoCal, I have really longed for my mom's cooking and just to have a taste of home. I have found that cooking is a really wonderful stress relieving outlet for me; it both brings together my newly founded friends and connects me to my home and family. I wanted to share a few new recipes that I have made while cooking up my education here at MBKU!
My nationality is Filipino-German, but I love to explore other foods and I wanted to dabble in other asian cuisines specifically. Let me know if you ever want to get some other ideas for cooking or quick meals! Also if you want any restaurant recommendations around the area, I am your gal! For now: I wanted to share TWO quick recipes that remind me of home!
Filipino Sopas Chicken Noodle Soup (Adapted from PANLASANG PINOY)
Prep Time: 10 minutes
Cook Time: 1 hour 30 minutes
Total Time: 1 hour 40 minutes
(Great for studying while it boils! I love to throw all the ingredients into a pot, let the chicken fall off the bone and get in a motivated study session! Also good if you need a well deserved break and watch some Netflix!)
Ingredients
1 lb. chicken thigh (skin removed, or leave a few in if you want extra flavor)
1/2 lb elbow macaroni
1 tablespoon neutral oil
4 stalks celery diced
1 medium onion diced
1 large carrot diced
1 dried bay leaf
4 cups chicken broth (or 1 square of chicken bullion with 4 cups of water)
6 to 8 cups water
1 1/2 cup fresh milk or 1 14 oz. can evaporated milk or unsweetened oat milk
3 tablespoons butter (optional)
Salt and pepper to taste
Instructions
Add diced onions, carrots, and celery to stock pot with neutral oil. Sautee until onions are translucent.
Add chicken with skin side down (if you are using skin) and let it brown (about 5 mins)
Pour in chicken stock (or chicken bullion) and water. Add in bay leaf. Bring the water to a boil.
Boil the chicken in low to medium heat for 45 minutes or until tender.
Remove the chicken and let cool.
Once the chicken reaches room temperature (or able to handle without scalding), shred the meat using your hands or forks. Discard (throw away) the bones.
Add the shredded chicken. Stir and let boil. Simmer for 20 minutes.
Add the elbow macaroni. Cook for 15 minutes. Add more water if needed.
Pour-in the milk. Stir and let boil.
Add salt and pepper to adjust the taste.
Transfer to a serving bowl. Serve.
Share and enjoy! (In my house, if you get the serving with the bay leaf it means good luck!)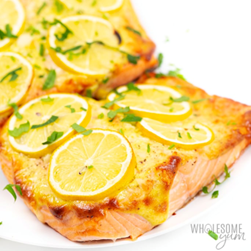 Baked Salmon with Fresh Lemons and Mayo (Adapted from Wholesome Yum)
Prep Time: 10 minutes
Cook Time: 30 minutes
Total Time: 40 minutes
Ingredients
2 lb Salmon filets
2 tsp Sea salt (or normal salt)
1 tsp Black pepper
1/2 cup Mayonnaise
½ Dill, roughly chopped
½ tablespoon capers (optional)
1 medium Lemon (cut into 1/4-inch slices)
Fresh parsley (optional, for garnish)
Instructions
Preheat the oven to 450 degrees F (232 degrees C).
Pat salmon filets dry with paper towels. Season both sides with sea salt and black pepper. Place them skin-side down onto a baking sheet (you can line it for easy cleanup if you'd like).
Spread mayo over the salmon. Sprinkle with dill and capers. Evenly top with lemon slices.
Bake for 8-10 minutes, depending on the thickness of the fish, until it flakes easily with a fork. Sprinkle with fresh parsley before serving.
(Recipe is great with a baked potato or steamed veggies! I personally love it with a big kale salad!)
Good luck and happy cooking!