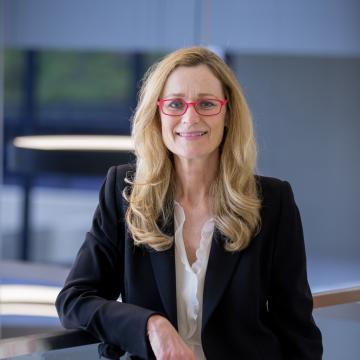 Susan A. Cotter, OD, MS, FAAO
Education
BS, Loyola University, Chicago
OD, Illinois College of Optometry
MS, University of Southern California
Residency in Children's Vision, SCCO
Biography
Dr. Susan Cotter, a Professor of Optometry at the Southern California College of Optometry (SCCO) at Marshall B. Ketchum University, is a pediatric optometrist and clinician-scientist with primary research interests related to clinical management strategies for amblyopia, strabismus, convergence insufficiency, and childhood refractive error.  She is the co-Chair of the Pediatric Eye Disease Investigator Group (PEDIG), a clinical research network of 350+ pediatric optometrists and ophthalmologists funded by the National Institutes of Health (NIH)/National Eye Institute (NEI), who perform clinical investigations related to pediatric eye disorders. Dr. Cotter has served in leadership positions for several large-scale NEI-funded studies - the Multi-Ethnic Pediatric Eye Disease Study (MEPEDS), the Collaborative Longitudinal Evaluation of Refractive Error (CLEERE), the Convergence Insufficiency Treatment Trial (CITT), and the CITT-Attention & Reading Trial (CITT-ART).  
Dr. Cotter is the President of the American Academy of Optometry, where she is a Diplomate in Pediatric Optometry, Binocular Vision, and Perception. She is a member of the Scientific Bureau of the World Society of Pediatric Ophthalmology and Strabismus (WSPOS) and served as the Co-Chair of the Public Health & Disparities Research Panel for the NEI's Strategic Plan for the Future (2021-2025). 
She is the recipient of numerous teaching awards, including the Excellence in Optometric Education Award from the California Optometric Association, Women in Optometry's Theia Award of Excellence in Education, and Outstanding Faculty of the Year from 18 third-year optometry classes. She is a Fellow of the College of Optometrists in Vision Development (COVD), a COVD Skeffington awardee, and an Illinois College of Optometry Alumna of the Year. She received the Glenn Fry Medal for Distinguished Achievements in Vision Research from The Ohio State University College of Optometry and the 2019 Glenn A. Fry Lecture Award from the American Academy of Optometry.
An Illinois College of Optometry graduate, Dr. Cotter completed a residency in Children's Vision at SCCO and received an MS in Clinical & Biomedical Investigations from the University of Southern California's Keck School of Medicine. She lectures internationally on pediatric eye care and binocular vision, is editor of the textbook Clinical Applications of Prisms, and has contributed to 200+ peer-reviewed publications.